Fruit mustard
Agrimontana Fruit Mustard is an original recipe, balancing to perfection the sweet fl avor of the fruit and the spicy fl avor of essential oils blend.
Agrimontana uses only fi rst class quality fruit (oranges, pears, pineapples, clementines, cherries and figs) sourced from producers boasting a consolidated history of quality production. The produce, once the perfect degree of ripeness is achieved, is harvested and immersed in glucose syrup, a process which preserves the integrity and organoleptic properties of the fruit.
The candied fruit is immersed in a mixture of mustard, horseradish essential oils and spices. This mixture, with a spicy and pungent fl avour and oily consistency, seals and enhances the delicate fl avour of the fruit. Agrimontana Fruit Mustard is ideal as an accompaniment to meat dishes, cured meats and cheese.
© DOMORI
Our products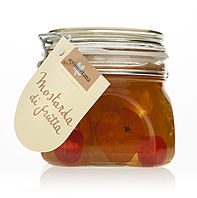 hermetique glass jar 650 g
AREA
Consigliato per collezioni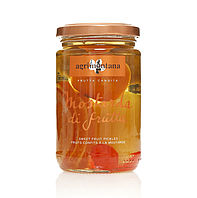 glass jar 350 gr
AREA
Consigliato per collezioni