Turin Marrons 40/50 pcs/kg
Turin Marrons 40/50 pcs/kg. Origin: Northern Italy: Turin (Susa Valley) and Cuneo areas.
Agrimontana chestnuts come only from selected Italian chestnuts, they are processed in accordance with a procedure so fascinating as simple respecting the natural rhythms of tradition.
The origin of the chestnuts is not only a value for the company, but also a distinctive feature of each variety in terms of aroma and use in pastry, in food service and in the field of ice cream. From Val Susa and Cuneo supple fruits come up, elegant and delicate on the palate; their distinguishing feature is the classic round shape. Agrimontana also offers its own selection of Tuscan-Emilian Apennines area to guarantee the professional quality in the variety.
© DOMORI
Not so far in the distant past, it was sufficient take a glance outside from the Agrimontana's gates to see, among the branches of the adjacent woods, the precious Cuneo chestnuts, the heart of the company's production.
The confisage process carried out without the addition of sulfur dioxide is fundamental to the final success. It is a slow process, with controlled temperature and strengthened by a hand selection made by an all-female staff, who effected the subdivision in calibres.
Our products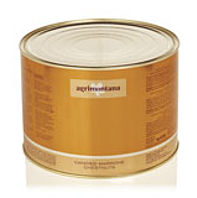 Pasteurised tin canister - 4 kg
AREA
Consigliato per pasticceria

Consigliato per cioccolateria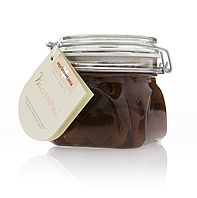 hermetique glass jar 680 g
AREA
Consigliato per collezioni